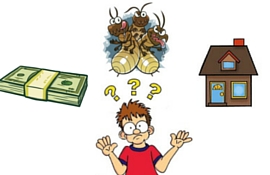 Are You Tired of Soaring Rates on Your Current Termite Contract?
You don't have to choose between spending too much money, protecting your home, or having termites!
Bizzy Bee may be able to transfer your current termite contract from your former company to us – now that's service & savings that anyone can appreciate!
Here's how it works:
Call us at 903-720-7717 to schedule a free and thorough inspection of your property.
One of our qualified Termite Inspectors will come out to your property and thoroughly inspect your property.
After your property is inspected, we will discuss the possibility of taking over the contract from your previous service provider, often times at a fraction of the cost that you are currently paying!
Bizzy Bee does not increase yearly rates for termite contracts unlike some larger companies do – that's right – no more rising rates year after year to protect your home from the destruction of termites!
About Us
I have known Wade and Bizzy Bee for 10 years. Prompt, professional, and spot on for what ever specific insect issue you are dealing with, every time!

WALTER L PERDUE, Client
Absolute best pest control people. Wade is very knowledgeable and gets the job done.

GARRETT GUNN, Client
Awesome service and speedy professional employees. Highly recommend.

PATRICIA FOSTER, Client
Great people and great work

AARON HAYNER, Client
Great customer service!

KELLIE KAMPIOM, client
Residential
Specializing in Quarterly
Termite Control and Treatments
Full Yard and In House Treatments
All Types of Pests and Rodents