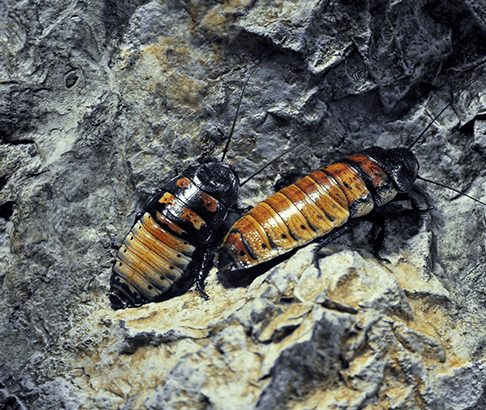 Our Services: Cockroaches
Cockroaches in the home are not only pesky, but they are dangerous and multiply very quickly when left untreated causing homes to become quickly infested. In cases of infestations, treatments can become very extensive, so it is always best to maintain quarterly preventative pest control to ensure that these disease carrying insect do not get the best of you or your home.
About Us
American Cockroaches (Periplaneta Americana)
American Cockroaches produce an odorous secretion.  If populations of cockroaches are high, there will be a strong concentration of this odorous secretion.  Cockroaches can pick up disease-causing bacteria, such as salmonella, on their legs and later deposit them on foods and cause food infections or poisoning.  House dust containing cockroach feces and body parts can trigger allergic reactions and asthma in certain individuals.
German Cockroaches (Blattella Germanica)
The German Cockroach reproduces faster than any other residential cockroach.  Different forms of gastroenteritis (Food Poisoning, Dysentery, Diarrhea and other illnesses) appear to be the principal diseases transmitted by German Cockroaches.  The organisms causing these diseases are carried on the legs and bodies of cockroaches and are deposited on food and utensils as the cockroaches forage.  Cockroach excrement and cast skins also contain a number of allergens to which many people exhibit allergic responses, such as skin rashes, watery eyes and sneezing, congestion of nasal passages and asthma.
I have known Wade and Bizzy Bee for 10 years. Prompt, professional, and spot on for what ever specific insect issue you are dealing with, every time!

WALTER L PERDUE, Client
Absolute best pest control people. Wade is very knowledgeable and gets the job done.

GARRETT GUNN, Client
Awesome service and speedy professional employees. Highly recommend.

PATRICIA FOSTER, Client
Great people and great work

AARON HAYNER, Client
Great customer service!

KELLIE KAMPIOM, client
Residential
Specializing in Quarterly
Termite Control and Treatments
Full Yard and In House Treatments
All Types of Pests and Rodents